What Seasonal Workers Need to Know About Workers' Compensation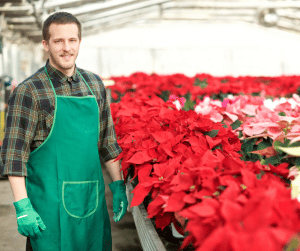 The holidays are coming up, and many stores are hiring extra employees for the busy holiday season in November and December. NBC12 in Richmond VA reported that UPS plans to hire 600+ seasonal employees for the expected holiday rush.
Other industries have seasonal employees during the summer. These seasonal workers, usually working part-time retail positions, may get injured from an accident while at work. Examples of common seasonal positions for the winter include people working at temporary ice-skating rinks, winter holiday fairs, Christmas tree lots, and all kinds of retail stores. Examples of common seasonal positions for other seasons include working at county fairs, corn mazes, amusement parks, pumpkin patches, and haunted houses.
Pay Attention to Safety
While some people take the same seasonal positions year after year, many seasonal workers have never had their particular job before. Plus, seasonal work is by definition short-term. As a result, seasonal workers may not be as aware of safety issues as full-time employees. As a seasonal worker, you may also be doing physical work you're not used to. Unexpected physical work and not being as aware of safety issues may increase the risks you have of getting injured at work.
Seasonal Workers Are Covered by Workers' Compensation
When it comes to workers' compensation law in Virginia, an employee is broadly defined and includes part-time, seasonal and temporary workers, minors, trainees, immigrants and working family members. Part-time and seasonal workers are covered by workers' compensation in Virginia, just like full-time employees are. Don't think that because you are hired temporarily or seasonally that your on the job injury doesn't qualify for workers' compensation, because more likely than not – it does. Workers' comp insurance is required by law for nearly all employers and those hiring seasonal workers are no exception. If you're a seasonal employee and you're injured due to an accident at work, you are entitled to the same types of benefits available to full-time employees. Make sure you follow the same steps: tell your employer, tell a doctor, then call HammondTownsend.
However, seasonal workers are less likely to need care for injuries other than physical injuries, due to the short duration during which they are working. Occupational diseases typically require time to build up, and most seasonal employees will not have an experience that would qualify them for mental health care resulting from an incident at work.
Claims Take a While
Even straightforward claims take several months to process entirely. It can be difficult if you're injured and unable to work while your workers' comp claim benefits come through, but don't count on receiving workers' comp benefits quickly to help you if you become injured at work.
Read the Resources
HammondTownsend has dozens of blog posts with helpful information about your workers' compensation claim. As you're going through the process, your HammondTownsend attorney and paralegal will be the most valuable players on your side, but the blog posts can give you additional information as well.