Unfortunately, there are many injuries that can happen in the workplace. The greatest number of injuries impact the upper extremities – arms, wrists, and hands. Many of these injuries occur when operating dangerous machinery. Industries where workers interact with dangerous machinery include: farming and agricultural, factories and warehouses, and of course construction work. You can review details on types of injuries that occur on the job from the Virginia Workers' Compensation Commission 2022 Annual Report. We have outlined key findings in this blog.
Distribution of Workplace Injuries in Virginia

35% Upper Extremity Injury
(arms, wrists, and hands)

21% Lower Extremity Injury

16% Trunk Injury
(abdomen, chest, and back)


12% Head Injury, 1% Neck Injury
Data provided by the 2022 Annual Report from the Virginia Workers' Compensation Commission
This distribution of injuries is understandable given the way an employee uses their body at work. Hands and arms are often grabbing and reaching for things and are often the body parts actually using dangerous equipment. Accordingly, it's plain to see why upper extremity injuries account for over one-third of all injuries workers experience.
Distribution of Injury Type
The types of injury most commonly experienced based on the 2022 data are falls, slips, and trips. Here are the top 4 injuries by event:
23% Fall, Slip, or Trip
21% Strain
19% Struck by Object
11% Cut, Puncture, or Scrape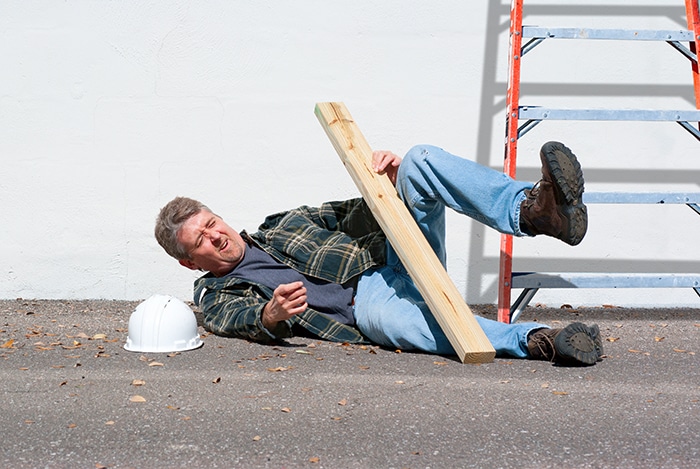 Injuries By Job Type
The more common types of injuries generally stem from the fact that numerous jobs place employees in areas with significantly increased hazards (falls, slips, trips). Many jobs require the use of the extremities and the torso (e.g., lifting or pulling), accounting for strains. Many other jobs do both (e.g., a construction site). Thus, it's common for an employee to strain a body part, to be struck by an object (such as something falling from a shelf), or to trip and fall.
Fewer jobs have heated equipment that place an employee at risk of receiving a burn or scald. A receptionist could easily strain their wrist trying to move a box of paper, trip and fall on an exposed electrical cord, or have a box of folders fall on their head when she opens a cabinet; on the other hand, she would not be exposed to the risk of a burn or scald injury in the same way a welder or food service worker would be.
Some occupations are noteworthy for particular injuries:
—       Carpenters are prone to eye injuries stemming from the use of pneumatic nail guns.
—       Construction workers are prone to multiple traumatic injuries arising from falls on construction sites.
—       Nurses are prone to strains and hernias (both spinal and abdominal) due to the need to move patients.
—       Teachers are prone to injuries from falls stemming from unexpected moves by small children.
—       Warehouse workers are prone to strains and hernias (both spinal and abdominal) from lifting heavy items.
—       Those who regularly travel on the roads as part of their work are prone to multiple traumatic injuries due to vehicle accidents.
Regardless of the location or type of your injury, HammondTownsend will work hard for you to gain the benefits you deserve!